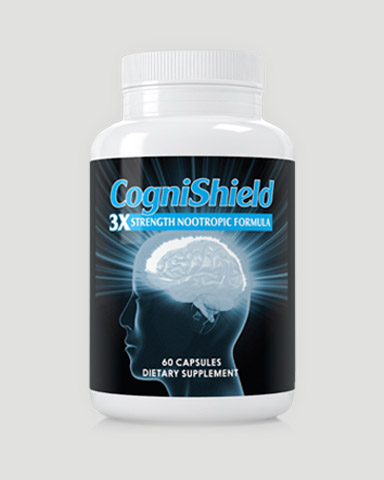 CogniShield (1 Bottle)
$69.00
Availability: In stock
CogniShield is designed to support focus and memory. It falls into a new and popular category of supplements called "smart pills." Customers say that once they start using CogniShield, they quickly notice a feeling of alertness, as well as the ability to better concentrate.
Description
Product Label
CogniShield Supplement
The nootropic ingredients in CogniShield work together to unlock the brain's full potential. They can be a powerful weapon in the fight against degenerative mind problems that plague us as we age.

Additionally, our superior formulation has been designed to provide the brain with many potential benefits, including:

• Improved memory

• Achieving a state of intense focus, clarity, and alertness…

• Assisting the brain against deterioration and memory related disease

• Helping with brain fog and memory loss.

The ingredients in CogniShield have been studied extensively on their own, and the findings have been incredibly positive. Try CogniShield for yourself today, and see just how much of a difference it can make in your life.