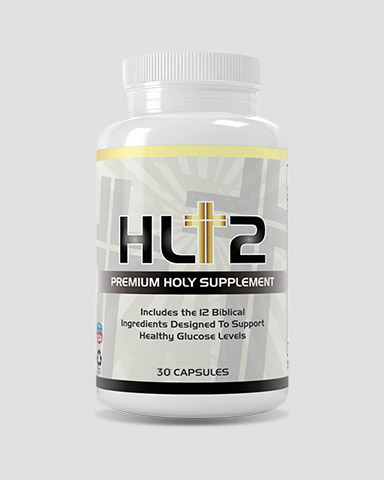 HL12 (1 Bottle)
$69.00
Availability: In stock
HL12 is a supplement containing 12 Biblical ingredients. It has been designed to help support healthy blood glucose levels. This makes it very popular with those who suffer from Type 2 diabetes.
Description
Product Label
HL12 Supplement
HL12 contains 12 ingredients that are mentioned in the Holy Bible, and that have been shown to help support healthy blood sugar levels. To date more than 60,000 satisfied customers have tried HL12. They love the way they feel and use it for their their diabetes and other health challenges.

Some of the key ingredients inside HL12 include:

Mukul Myrrh: there are numerous studies showing that mukul myrrh can aid diabetics. It has been shown in specific studies to "significantly increase insulin sensitivity" and lower fasting blood glucose levels. It also helps to reduce the amounts of unhealthy fats in the blood stream.

Cinnamon: Cinnamon is one of the most proven natural ingredients for fighting diabetes. In a study published in the journal Diabetes Care, all subjects who received cinnamon each day saw an improvement to their fasting blood sugar levels. Additional studies have further proved that cinnamon has potential to lower HbA1c levels and control blood sugar.

Bitter Melon: Used since ancient times to help with blood sugar issues, bitter melon is said to have at least three anti-diabetic ingredients. Bitter melon also suppresses appetite and regulate insulin.

Gymnema Sylvestre (Ram's Horn): One publication recently called gymnema "the future of diabetes treatment." In several studies taking gymnema regularly led to lower blood sugar levels. It's also been shown to increase insulin secretion, which is important to diabetics.

Banaba (Crape Myrtle): The first study of banaba for diabetes appears in 1940. Since then it's become increasingly popular due to its hypoglycemic effects. Many people use banaba to improve glucose levels and manage their blood sugar.

Chromium: A double-blind, placebo controlled study done by researchers at Toronto General Hospital found that chromium "improved insulin resistance, metabolic abnormalities, and body compositions." Meanwhile another study published in the journal Metabolism found that chromium supplementation significantly decreased glucose concentration in subjects.

Manganese: Research has shown that a manganese deficiency can lead to impaired glucose tolerance and an altered metabolism. And in one study where subjects began using manganese supplementation, their blood sugar levels were 41% more stable throughout the day.

And those are just 7 of the 12 powerful ingredients found inside HL12.

Order now and feel God's power going to work inside of you.

Your purchase is covered by a 180 Day, 100% Money Back Guarantee.

That means you have no risk in trying HL12 today!