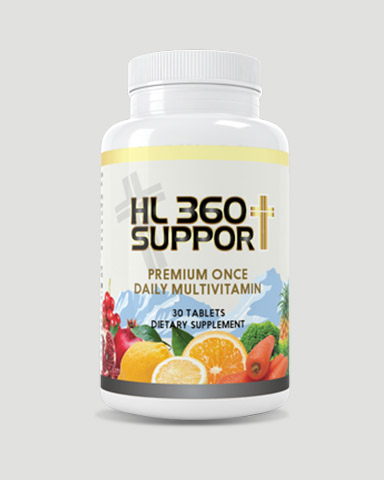 HL360 Support (1 Bottle)
$69.00
Availability: In stock
HL360 Support contains 26 Vitamins and Minerals that are essential to your health. Made with ultra-grade ingredients, this is much more than just a "multivitamin." This is one of the most important gifts you can ever give to your body.
Description
Product Label
HL360 Support Supplement
HL360 Support is the replacement to your multivitamin. But what makes it different from an average multivitamin? Here's what makes HL360 Support so unique…

• Engineered with our proprietary KBS Antioxidant Complex to support anti-aging, fight free radicals, and stop inflammation.

• 15 foundational vitamins and minerals that support healthy skin, joints, hair, bones, and teeth.

• 9 healing minerals that support healthy blood sugar levels, including magnesium, selenium, manganese, and chromium

• Loaded with additional vitamins and minerals for a healthy heart, lower cholesterol, lower blood pressure, a stronger immune system, and a stronger metabolism.

HL360 Support gives your body the daily protection it needs to thrive.