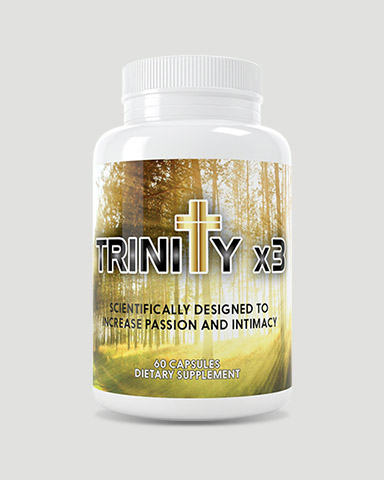 Trinity-x3 (1 Bottle)
$69.00
Availability: In stock
Trinity x3 is a powerful vitality supplement designed for both men and women. It contains more than 20 unique and natural ingredients that have been shown in hundreds of studies to help with arousal and intimacy challenges. We believe this Blessed supplement can strengthen your marriage and bring you and your spouse closer to God.
Description
Product Label
Trinity x3 Supplement
Trinity x3 is an arousal supplement that helps bring married Christians closer together. This is something that both men and women are able to use. The reason why is that the arousal mechanism is the same in both men and women – it's all about getting blood flow the right places. That's what Trinity x3 was designed to do.

Whether you're marriage no longer has that "spark" it used to, or you're strongly to perform, Trinity x3 is for you. So far thousands of folks have already seen a dramatic improvement to their intimate lives using our powerful supplement. Shipping is discreet as well, so you never have to feel embarrassed when ordering this blessed supplement.